Seafood Pancakes
Rich and delicious. We used swiss instead of Gruyere and let out the monk fish using extra scallops. Loved the sauce, thick, creamy and rich with a subtle garlic flavor throughout. The creamy sauce enveloped the seafood stuffed crepes and then we topped them with some leftover sauce and a sprinkled on some parsley for color. Delicious, decadent breakfast. Fairly easy to make too.
Directions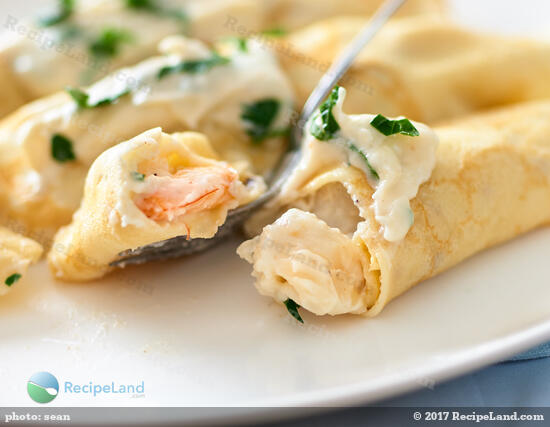 Make pancake/crepe batter by mixing flour and salt in mixing bowl. Make well in the center and pour in the egg, 4 teaspoons oil and 1 cup milk. Whisk to a smooth batter then add remaining milk. Set aside.

Remove any skin from the fish; rinse, pat dry and cut into bite-size pieces. Dry the scallops and cut in half or quarters if using large scallops.

Add ¾ cup of milk into a saucepan, add garlic and bring to simmer. Add all fish except shrimp. Simmer for 5 to 6 minutes before adding the shrimp. Once the shrimp turns pink, remove all seafood to a bowl and set aside. Strain the garlic/fish milk and reserve for the sauce.

Add butter to the saucepan and melt until bubbling subsides; whisk in flour and cook for 2 minutes. Whisk in the reserved milk and the cream. Cook, stirring at a simmer for 2 or 3 minutes until you have a smooth sauce. Reduce heat to low, add the cheese, parsley and season to taste with salt and white pepper. Add seafood and stir gently to combine.

Preheat oven to 350℉ (180℃). Heat a non-stick skillet over high heat. Lightly grease it with a small amount of oil.

Beat pancake batter, then add about three tablespoons into the skillet. Turn/swirl the pan so that the bottom is covered evenly with batter and cook for 40 to 60 seconds, turn and cook another 30 to 40 seconds longer. Transfer to large plate. Continue with the remaining crepes. (There should be sufficient batter to make about ten pancakes.)

Place an equal amount of filling (about 3 tablespoons) into the center of each pancake, fold the sides over filling and arrange in an ovenproof dish just large enough to hold pancakes.
Place in oven for 20 minutes, or until the pancakes are heated through. Serve immediately.
Variations
If you don't have access to monkfish, simply use additional scallops or other white fish that you may have on hand.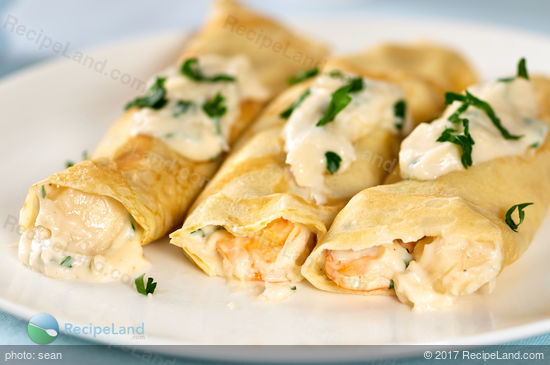 Nutrition Facts
Serving Size
112g
(4.0 oz)
Amount per Serving
Calories
177
46% of calories from fat
Trans Fat 0g
Sugars g
Vitamin A 7%
•
Vitamin C 3%