Best Cream Biscuits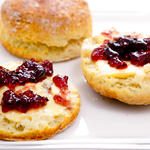 Cream Biscuits recipe
Metric
Directions
Sift dry ingredients.
Cut in ¼ cup of butter. Add the cream.
Roll out on a floured board.
Cut with a 2-inch cutter.
Bake on an ungreased pan in a hot oven of 400℉ (200℃) for 12 to 15 minutes or until golden brown.
Serve with butter, whipped cream, and jam if desired.