Baked Potato Salad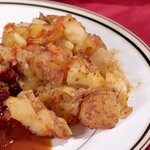 Metric
Directions
Put potatoes in a large saucepan with 1 inch cold water and 1 teaspoon salt; bring to a boil.

Cover, reduce heat and simmer 25 minutes, until potatoes are tender; drain and cool.

Peel potatoes and slice ¼ inch thick; set aside.

Heat oil in a medium-size skillet; sauté onion until soft.

Stir in flour, mustard, celery seed and remaining ⅓ teaspoon salt.

Gradually add ½ cup water and vinegar; cook over low heat, stirring constantly, until mixture boils and thickens.

Combine potatoes, green pepper and carrots in a bowl; add sauce, mixing well.

Spoon half the mixture into a shallow 8x8-inch baking dish; sprinkle with ½ cup cheese.

Cover with remaining potato mixture and cheese.

Bake, uncovered, in preheated 350'F. oven 15 to 20 minutes, or until cheese is melted and vegetables are hot.