Triple Chocolate Muffins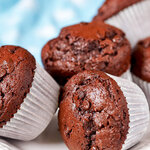 Triple Chocolate Muffins recipe
Metric
Directions
Slowly melt butter and unsweetened chocolate.
Meanwhile blend sugar, eggs, buttermilk, and vanilla.
Beat until smooth.
Sift flour, salt and baking soda together.
Add to egg mixture to chocolate mixture and blend well.
Add flour mixture and beat until smooth.
Fold in choclate chips and walnuts if using.
Grease muffin tins well. Fill each cup ⅔ full with batter.
Bake at 375 deg for 20 to 25 minutes.