Easy Mint Peas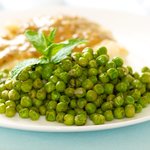 Quick, easy and refreshing. Serve this tasty and light side dish with any your favorite meat dishes.
Metric
Directions
Add the oil in a large nonstick skillet over medium-high heat until hot.
Add the garlic, and cook for about 40 seconds until very fragrant.
Stir in the peas and mix well. Pour the broth over the peas.
Cover and simmer until the peas are very green and heated through, 3 to 5 minutes.
Stir in the mint and butter until the butter melts.
Remove from the heat, add the lemon juice.
Adjust the seasoning with salt and black pepper to taste.
Serve.