Sorrel Soup with Chorizo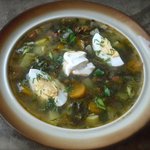 I cook sorrel soup every spring year by year because of the unique sour flavor. I usually make it on the base of long simmered veal bones. This spring the process of cooking was shortened by using Spanish chorizo. No regret.
Metric
Directions
1 - Prepare all the ingredients. 2 - Add oil to the pot, sauté chorizo for 2 to 3 minutes, add onion with garlic and sauté for the next 2 minutes. Save some chives for garnish. 3 - Pour vegetable stock into the pot and bring to boil. In the meantime add carrot, potatoes, lovage and rosemary. Simmer for about 10 minutes. 4 - Add sorrel and dill leaves, simmer for about 5 to 7 minutes. Save some dill for garnish. 5 - Garnish with 2 teaspoon of cream, and a quarter or a half of egg. Sprinkle some dill and chives.