Creamless Mushroom Soup
A creamy and rich wild mushroom soup that doesn't contain any cream. It's loaded with wholesome veggies and satisfies with earthy goodness.
Directions
Melt the butter over medium heat in a large soup pot.
Add the carrots, onions, leeks, and celery, and cook until tender but not browned, about 10 minutes.
Stir in the mushrooms and cook for 5 minutes, until the mushrooms have softened and released their juices.
If using fresh thyme sprigs tie sprigs together with butchers twine to create a bouquet garni.
Add the chicken stock, thyme, salt and pepper, and simmer, covered, for 30 minutes.
Remove the thyme sprigs (if you used whole sprigs).
Purée the soup in a food processor or blender in as many batches as necessary.
Adjust seasoning to taste. Serve in warm bowls with a sprinkling of chives and a drizzle of olive oil, if desired.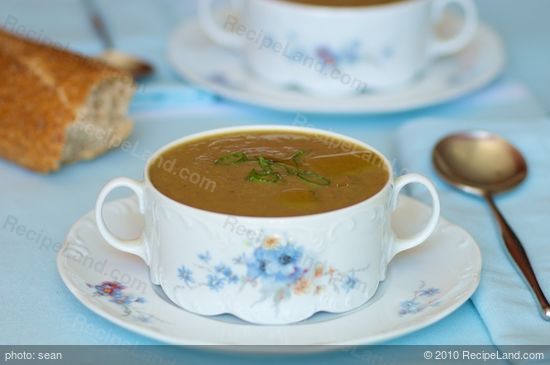 Nutrition Facts
Serving Size
312g
(11.0 oz)
Amount per Serving
Calories
121
82% of calories from fat
Trans Fat 0g
Sugars g
Vitamin A 74%
•
Vitamin C 8%