Quinoa and Edamame Salad with Sun-Dried Tomato and Olives
You will love how tasty this salad is. You can serve it as a side dish, or just have it for a simply flavorful yet nutritious main course.
Directions
Bring a pot of water to a boil, cook the edamame for about 8 minutes, rinse under cold water, and shell the edamame. Transfer into a large mixing bowl.
Meanwhile toast quinoa in a medium nonstick skillet over medium heat until browned, stirring often, about 8 minutes. Transfer into the same mixing bowl.
Add toasted quinoa and water in a medium saucepan, and bring to a boil.
Reduce heat to low to maintain a gentle simmer, cover and cook until the water has been absorbed, 15 minutes, remove from the heat, and let sit for another 5 minutes. Fluff with a fork. Set aside and let cool.
Heat the olive oil in the same medium nonstick skillet over medium high heat. Add the garlic, stirring constantly, and cook for about 40 seconds until very fragrant.
Add the corn, stirring often, toast the corn for about 10 minutes until the corn turn into brown in spots. Remove from heat and let cool for a few minutes.
In the large mixing bowl with the edamame, add the quinoa, toasted corn, sun-dried tomatoes, blanched peas, black olives, cucumber, bell peppers, artichoke hearts, red onion, parsley, and feta cheese.
Add the olive oil and lemon juice, mix until well combined and coated. Season with salt and black pepper to taste.
Serve or put in the fridge for a couple of hours or overnight, the flavor will be even better.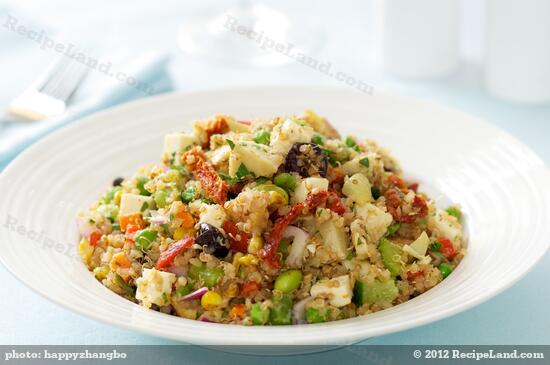 Nutrition Facts
Serving Size
233g
(8.2 oz)
Amount per Serving
Calories
335
48% of calories from fat
Trans Fat 0g
Total Carbohydrate
13
g
13%
Sugars g
Vitamin A 9%
•
Vitamin C 175%