Low-Fat Apple Walnut Bran Muffins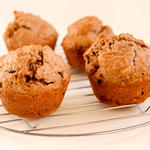 Try this fruity delicious snack that is perfect for a treat after lunch.
Metric
Directions
Preheat oven to 350℉ (180℃).
Lightly coat muffin pans with non-stick cooking spray.
Cream oil and sugar together until smooth.
Add the egg whites, applesauce, and skim milk, mix well.
In a large bowl, combine flour, wheat bran, baking powder, baking soda, salt, cinnamon, oats, and walnuts.
Pour the creamed mixture into the dry ingredients, and stir until smooth.
Spoon into the prepared muffin pan.
Bake for 22 to 25 minutes or until the muffins are slightly firm to touch.
Calories=125 each fat grams=3.2 sodium=202 mgs.