Key Lime Pie-Low Fat
This Key Lime Pie was so much lighter, and the meringue topping was fluffy, creamy and super light. Enjoy this delicious key lime pie without feeling guilty!
Ingredients
For the crust:
1
large

egg whites




1 ¼
cups

graham wafer crumbs


about 12 wafers

*

1 ½
tablespoons

butter, unsalted


melted

1 ½
tablespoons

canola oil




For the filling:
14
ounces

milk, low fat, sweetened, condensed


or nonfat

*

⅔
cup

yogurt, low-fat


plain

2
teaspoons

lime zest


freshly grated, prefer key lime

½
cup

key lime juice


if you can't find key lime, regular lime works well

2
tablespoons

water




1 ½
teaspoons

gelatin, unflavored




*

For the meringue:
2
tablespoons

egg whites, powdered


reconstituted according to package directions

*

¼
teaspoon

cream of tartar




*

½
cup

sugar




1
teaspoon

vanilla extract




limes


slices, for garnish

*
Directions
For the crust:
Preheat oven to 350°F. Coat a 9-inch pie pan with cooking spray.
Place egg white, graham cracker crumbs, butter and oil in a medium bowl.
Blend with your fingertips until thoroughly combined.
Press the mixture in an even layer on the bottom and sides of the pie plate.
Bake until lightly browned, about 10 minutes. Cool on a wire rack.
For the filling:
Whisk condensed milk, yogurt, lime zest and juice in a medium bowl.
Stir water and gelatin in a small heatproof cup or bowl.
Microwave, uncovered, on High until the gelatin has completely dissolved but the liquid is not boiling, 20 to 30 seconds.
(Alternatively, bring ½ inch water to a gentle simmer in a small skillet. Set the bowl with the gelatin mixture in the simmering water until the gelatin has dissolved completely.)
Stir the gelatin mixture, then whisk into the lime mixture.
Set that bowl over a larger bowl of ice water, stirring occasionally, until it begins to thicken, 15 to 20 minutes.
Scrape the filling into the pie shell and refrigerate until chilled and set, at least 4 hours and up to 1 day.
For the meringue and pie: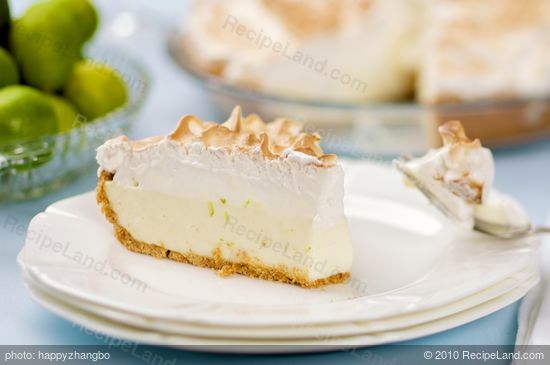 Position oven rack about 6 inches below the broiler; preheat broiler.
Beat reconstituted egg whites and cream of tartar in a mixing bowl with an electric mixer on medium until soft peaks form.
Gradually add sugar and continue mixing until the egg whites are glossy and hold stiff peaks. Blend in vanilla.
Spread the meringue over the top of the pie, sealing to the edge of the crust and decoratively swirling on top.
Broil (leaving the oven door ajar and watching very carefully to prevent burning) until the meringue is lightly browned on top, 30 seconds to 1 minute.
Serve garnished with lime slices.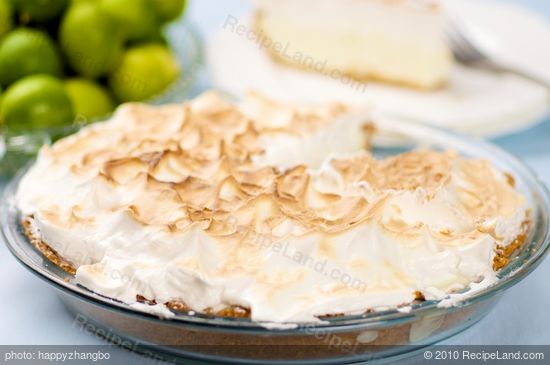 Nutrition Facts
Serving Size
62g
(2.2 oz)
Amount per Serving
Calories
108
41% of calories from fat
Trans Fat 0g
Sugars g
Vitamin A 2%
•
Vitamin C 9%