Jamaican Sweet Potato Pudding Cake
This Jamaican Sweet Potato Pudding cake is smooth and creamy, the coconut milk, raisins and rum add huge flavor to this dessert.
Directions
Preheat oven to 350℉ (180℃).
For the cake:
Grease well a 9-inch spring form pan, or you can use cooking spray.
Combine raisins and rum in a small bowl and set aside.
Mix well flour, nutmeg and salt in another medium bowl.
You can freeze the cake for up to 2 weeks.
Mash cooked sweet potato in a large bowl.
Put in eggs, mix with an electric mixer on medium speed until combined.
Put in coconut milk, 1 cup brown sugar and butter, mix until combined.
Put in the dry ingredients until evenly moistened.
Put in the raisins and remaining rum in the small bowl.
Spread the batter evenly in the prepared pan, the batter should be very moist and liquid.
For the topping:
Combine coconut, 2 tablespoons brown sugar and cinnamon in a medium bowl.
Sprinkle coconut mixture on top of the pudding cake.
Bake the cake until a wooden skewer inserted into the center comes out clean, about 70 minutes.
Let cool in the pan for 15 minutes.
Use a knife around the edge of the pan and gently remove the side ring.
Let cool at room temperature on a wire rack, gently remove the bottom of the spring form pan, for 2 hours or more, until cool completely.
Put into the refrigerator for at least 4 hours or overnight.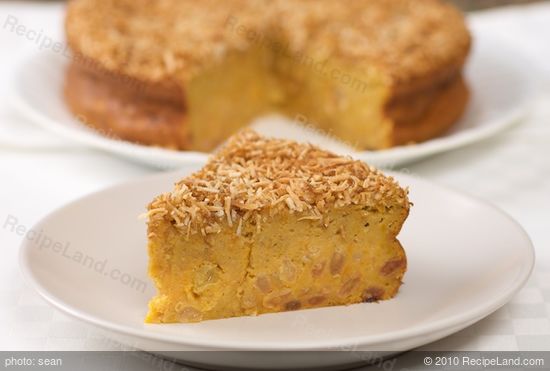 Nutrition Facts
Serving Size
95g
(3.4 oz)
Amount per Serving
Calories
209
45% of calories from fat
Trans Fat 0g
Sugars g
Vitamin A 75%
•
Vitamin C 7%