Alaskan Blueberry Coffee Cake
A scrumptious and decadent coffee cake that's perfect with a cup of hot chocolate or coffee!
Directions
In a medium mixing bowl, blend together 1½ cups flour, sugar, baking powder, salt, oil, milk, egg and 1 cup blueberries.
Beat thoroughly for 30 seconds and spread in a greased round 9x1½-inch pan or an 8x8x2-inch pan.
Combine ⅓ cup flour, brown sugar, connamon and butter. Sprinkle over batter and top with the remaining berries.
Bake in a 375℉ (190℃) oven for 25 to 30 minutes, until done. Don't over bake. Serve warm with butter or honey.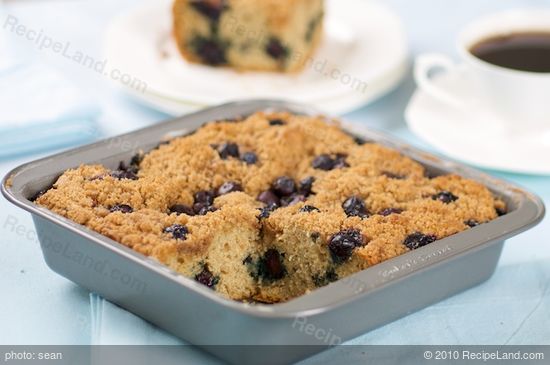 Appearing In:
The American Country Inn and Bed & Breakfast Cookbook, Volume One.
From Heavenly View Bed and Breakfast, Anchorage, Alaska Sonya's note: If I remember correctly, this takes a bit longer to bake than what is in the instructions, but it is worth the wait!
Nutrition Facts
Serving Size
120g
(4.2 oz)
Amount per Serving
Calories
324
39% of calories from fat
Trans Fat 0g
Total Carbohydrate
15
g
15%
Sugars g
Vitamin A 5%
•
Vitamin C 5%