Chicken and Shrimp Vindaloo
This spicy Indian dish is best served with basmati or jasmine rice, warm nan, and ready-made mint chutney. A mango sorbet would be a nice finish to this meal.
Directions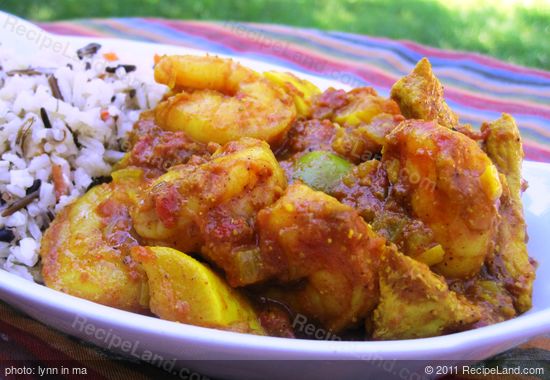 In dry, non-stick skillet over medium-low heat, toast all the spices, except the kosher salt, for about 3 to 5 minutes to bring out their flavors; set aside to cool.
Heat half the vegetable oil in a large skillet, add onion and sauté over medium heat until just turning brown.
Remove onion and place in food processor.
Add the chiles to the processor with the toasted spices, garlic cloves, salt, vinegar, tomato paste and about 4 to 5 Tbs. water. Work until completely smooth.
Heat the remaining vegetable oil in the same large skillet; add the chicken strips and sauté over medium heat until lightly browned about 5 minutes. Add the onion and spice mixture and cook for a few minutes over medium-high heat, stirring constantly to prevent sticking.
Turn down heat to low; cover and cook very gently for about 20 minutes or until chicken is very tender. Add a bit more water if sauce reduces too much.
Uncover and add the shrimp; cook over medium-low heat for 2 minutes. Cover, reduce heat to low and cook an additional 3 minutes or until the shrimp are just cooked through.
Serve hot over basmati or jasmine rice with mint chutney and warm nan on the side, if desired.
Nutrition Facts
Serving Size
221g
(7.8 oz)
Amount per Serving
Calories
375
43% of calories from fat
Trans Fat 0g
Sugars g
Vitamin A 14%
•
Vitamin C 21%