Bowl of Compassion Vegetarian Chili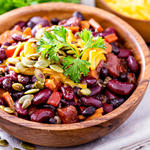 Bowl of Compassion Vegetarian Chili recipe
Metric
Directions
Sauté onions, garlic, and peppers in oil until onions are translucent.
Add spices and simmer for two minutes. Stir in remaining ingredients, adding the TVP last.
You can adjust the amount of TVP to obtain the desired texture and consistency.
You can substitute beer for the water for a more unique flavor.
One jalapeno makes a mild chili (two were used for the cookoff).
Simmer from four to six hours.
It's even better the next day.