Almond Cherry Bundt Cake
Vanilla yogurt makes the cake tangy and moist, homemade cherry filling that has strong cherry taste adds extra layer of deliciousness. By using whole wheat flour and canola oil add some fibre and cut down the saturated fat without taking away any yumminess. Enjoy a slice or two with a cup of coffee or tea.
Directions
Preheat oven to 350℉ (180℃) F. Very generously coat a 10-inch Bundt or tube pan with cooking spray. Dust the pan with flour, tapping out the excess.
For the cherry filling:
Combine sugar and cornstarch in a medium nonreactive saucepan. Stir in cherries, orange juice, lemon zest and almond extract.
Bring to a boil over medium-high heat and cook, stirring occasionally, until the mixture looks like very thick jam and has reduced to about 1 cup, 5 to 7 minutes.
For the cake:
Sift cake flour, whole-wheat flour, baking powder, baking soda and salt into a medium bowl.
Beat sugar, butter and oil in a large bowl with an electric mixer on low, then medium speed, until very light and fluffy, about 1½ minutes, scraping the sides as needed. Add half the yogurt and beat until very smooth.
With the mixer on low speed, beat in half the dry ingredients until incorporated.
Beat in the remaining yogurt, eggs, vanilla and almond extract until combined, scraping the sides as needed. Add the remaining dry ingredients, mix just until incorporated.
Spoon a generous half of the batter into the prepared pan, spreading to the edges. Spoon the cherry mixture over the batter. Top with the remaining batter. Grease a butter knife and swirl it vertically through the batter and cherries.
Bake the cake until a toothpick inserted in the thickest part comes out with no crumbs clinging to it and the top springs back when lightly pressed, 50 to 65 minutes. (Dark-colored metal pans usually bake cakes faster than light-colored or shiny metal pans.)
Transfer the pan to a wire rack and let stand until the cake is completely cooled, about 1½ hours.
Very carefully run a knife around the edges and center tube to loosen the cake from sides and bottom.
Rap the pan sharply against the counter several times to loosen completely. Invert the pan onto a serving plate and slide the cake out. Dust the top with powdered sugar before serving.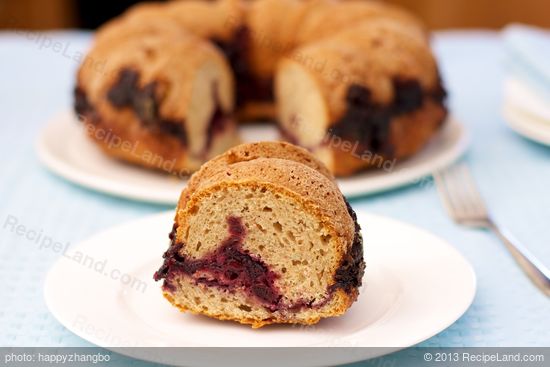 Nutrition Facts
Serving Size
97g
(3.4 oz)
Amount per Serving
Calories
284
24% of calories from fat
Trans Fat 0g
Total Carbohydrate
16
g
16%
Sugars g
Vitamin A 3%
•
Vitamin C 2%