Very Chocolaty Brownies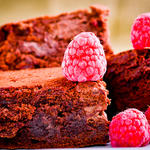 These brownies are nice for kids, they always love chocolate flavour!
Metric
Directions
Preheat the oven to 180°/Gas 4.
Grease the baking tin and line the base with baking paper.
Break the 180g dark chocolate into squares.
Place in a heatproof bowl suspended over a pan of simmering water and allow the chocolate to melt.
Add the butter to the melted chocolate.
Stir until the butter has melted and blended with the chocolate.
Remove from heat and stir in the sugar.
Beat the eggs. Stir the beaten eggs into the melted chocolate mixture, mixing well.
In a separate mixing bowl sieve the flour and baking powder. Slowly fold in the chocolate mixture. Stir in the chocolate chunks.
Transfer the mixture into the greased, lined baking tin.
Bake for 25 to 30 minutes until it is just firm to the touch in the centre.
Remove from the oven, cool slightly, turn out and cool on a wire rack.
Slice into 16 squares.