Spinach and Long White Radish Soup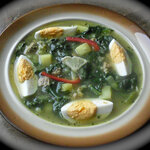 spring soup of unusual taste..
Metric
Directions
1 - Toss beef, celery, juniper and ca. 1 teaspoon of salt into a pressure cooker, pour in water, and cook for 20 minutes. In the meantime prepare the rest of ingredients. 2 - Heat oil in the skillet, add potatoes and onion, fry stirring for 3 to 4 minutes, then add radish and spinach, continue for about 2 minutes. 3 - Transfer all from the pressure cooker to the pot excluding scums. Add green pepper, tarragon and all from the skillet. Cook for 8 to 10 minutes. At the end stir in the lemon juice, turmeric, salt if needed and ground pepper. 4 - Serve with hard boiled eggs, which you may add less than I did.