Roasted Mushrooms, Garlic and Pine Nuts with Pasta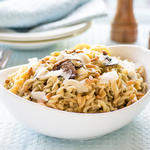 Roasting concentrates the flavour and the roasted garlic doubles up on the depth of flavours. The portobello mushrooms add a meaty texture, and pine nuts add a nutty highlight.
Metric
Directions
Place the oven rack in the center of the oven.
Put a large rimmed baking sheet on the rack, and preheat the oven to 500 degrees.
Prepare one 12-inch sheet of foil and spread flat on the counter-top.
Set the garlic heads, cut-side up, in the center of foil.
Drizzle ½ teaspoon oil over each head and seal the packet.
Put the packet on the oven rack and roast until the garlic is very tender, 38 to 42 minutes.
Open the packet and set aside to let cool.
While the garlic is roasting.
Remove and discard stems of mushrooms, wipe caps clean and cut into ¾ inch slices.
Add the sliced mushrooms in a large bowl along with 1½ tablespoons oil, 1 teaspoon salt, blqck pepper to taste, 1 pinch of sugar, and toss until well coated and mixed.
Remove the baking sheet from the oven.
Carefully transfer the mushrooms to the hot baking sheet and spread into even layer, arranging cut side down.
Bring the baking sheet back to the oven and roast until mushrooms is well browned and tender, about 35 minutes, giving the mushroom a stir in the half way of roasting.
Transfer the roasted mushrooms to the cutting board.
While mushrooms roast, bring 4 quarts water to a boil in a large pot.
Stir in the pasta and about 1 tablespoon salt, and cook until ad dente.
Squeeze roasted garlic cloves from their skins into a small bowl.
With a fork, mash garlic to smooth paste, then mix in red pepper flakes and lemon juice to taste.
Slowly whisk in remaining 1½ tablespoons of oil.
Drain pasta, reserving 1 cup cooking water, and return pasta to pot.
Stir in roasted mushrooms, pasta and garlic sauce, 4 tablespoons of the cooking water, rosemary and extra lemon juice to taste.
Sprinkle remaining cheese and toasted pine nuts on top.
Serve right away.