Olive Oil Brownies with Coconut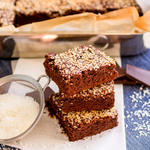 Olive Oil Brownies with Coconut
Metric
Directions
Heat the oven to 350℉ (180℃).
Lightly grease a 9-by-13-inch brownie pan with a cooking spray or greased with olive oil.
In a large bowl, add together the cocoa powder and ½ cup plus 2 tablespoons boiling water, whisk until smooth.
Whisk in the unsweetened chocolate until the chocolate melts.
Add the olive oil, eggs, yolks and vanilla, and keep whisking until incorporated.
Whisk in the sugar until completely dissolved and smooth.
Using a spatula, fold in the flour and salt until just moistened without dry spots.
Fold in the bittersweet chocolate pieces.
Pour half the batter into the prepared pan and smooth with a spatula.
Sprinkle ¾ cup of the shredded coconut evenly on top of the batter.
Pour in the remaining batter and smooth again with the same spatula.
Sprinkle with the remaining cup of coconut evenly.
Bake until just set and firm when touch, 27 to 36 minutes. (These brownies get harder inside as they cool, so using a wooden stick to check for doneness will not work; it will not come out clean.)
Transfer the pan to a wire rack and let cool completely, at least 2 hours.
Cut into 1-inch squares and serve.