Long White Radish and Arugula Salad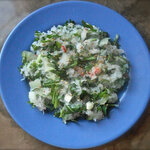 spicy.. fits to many meat or vegan dishes..
Metric
Directions
1 - Prepare radish, arugula, scallion, pepperoni. Toss them to a salad bowl. Add oil, juice, season with salt and pepper. Add sugar if desirable. Mix all together. Set aside for 10 minutes. 2 - Meanwhile fry sesame seeds for garnish.