Greek Spinach Pie
This Greek-style spinach pie was absolutely delicious! The cheese mixture of ricotta and feta was moist and cheesy, which gave the pie lots of flavors; sauteed mushrooms, spinach, and sun-dried tomatoes were a great combination. The phyllo came out golden brown and crispy. This pie can be served as a lighter main dish or an elegant appetizer.
Directions
Preheat oven to 350℉ (180℃) F (175 degrees C). Lightly oil a 9x9 inch square baking pan.
Heat 3 tablespoons olive oil in a large skillet over medium heat.
Sauté onion, green onions, garlic ad mushroom until soft and lightly browned.
Stir in spinach and parsley, and continue to sauté until spinach is limp, about 2 minutes.
Remove from heat, stir in sun-dried tomatoes and set aside to cool.
In a medium bowl, mix together eggs, ricotta, and feta.
Stir in spinach mixture.
Lay 1 sheet of phyllo dough in prepared baking pan, and brush lightly with olive oil.
Lay another sheet of phyllo dough on top, brush with olive oil, and repeat process with two more sheets of phyllo.
The sheets will overlap the pan.
Spread spinach and cheese mixture into pan and fold overhanging dough over filling.
Brush with oil, then layer remaining 4 sheets of phyllo dough, brushing each with oil.
Tuck overhanging dough into pan to seal filling.
Bake in preheated oven for 30 to 40 minutes, until golden brown.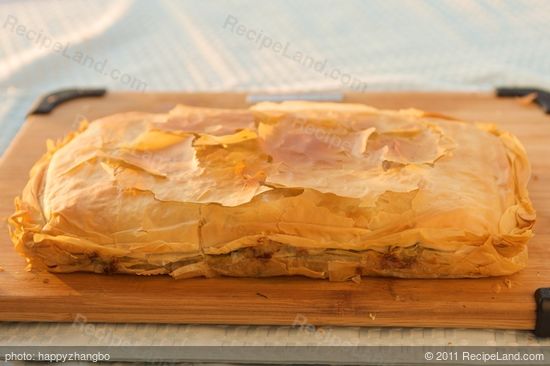 Cut into squares and serve while hot.
---
---