German Beef Roulade
Directions
With meat mallet or rolling pin, flatten meat to approximately a 10x8 inch rectangle. Spread mustard over meat.
In large skillet, over medium high heat, cook bacon and onion until bacon is crisp; pour off fat, reserving ¼ cup.
Spread bacon mixture over meat; sprinkle with pickle. Roll up meat from short end; secure with string.
In a large skillet over medium-high heat, brown beef roll in reserved fat. Place in a 13x9 inch baking dish .
Stir flour into fat in skillet until smooth; gradually stir in beef broth. Cook and stir over medium heat until thickened. Pour sauce over the beef roll.
Cover, bake in 325℉ (160℃) oven for 1½ hours or until done. Let stand 10 minutes before slicing.
Skim fat from sauce; strain and serve with meat.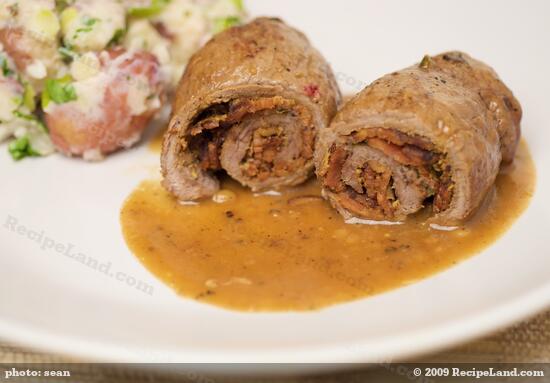 ---
---