Easy Korean Cucumber Kimchi
Making your own kimchi at home is totally easy, and the best of all is that you can adjust the seasonings to your own taste. Serve it with any your favorite Korean or other dishes.
Directions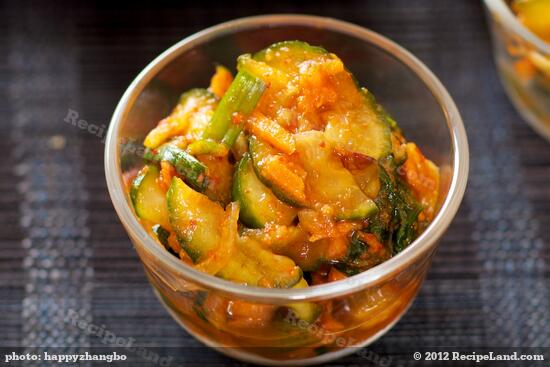 In a large saucepan, add water, salt and bring to a rolling boil.
Meanwhile cut each log of cucumber into a cross from the top all the way to about ½-inch of the bottom, which means do not cut the log all the way through.
Add all the cucumber slices into a large bowl. Pour the salted boiling water to cover the cucumbers in the bowl, and allow to sit for 1 hour.
Meanwhile make the spice paste or marinade:
Add onion, garlic, ginger, apple, rice and water in a food processor or a blender. Purée until smooth.
Transfer the purée into a bowl and stir in the chili flakes and honey until well mixed. Let it sit for about 20 minutes.
In a large mixing bowl, add apple, sliced onions and scallions, pour the spice paste over, toss and massage until mixture is well combined. Set aside.
To make the cucumber kimchi:
After 1 hour, drain the cucumbers and rinse with cold and running water twice/ Drain well and pat dry with paper towels.
In mixing bowl, add cucumber slices and seasoning mixture that has sit for about 20 minutes to taste.
Put on a rubber glove, and massage cucumbers with seasoning mixture until well combined. Place cucumber kimchi into a jar, then well seal it.
Allow to sit at the room temperature for 1 day. Store in the refrigerator for up to months.
Nutrition Facts
Serving Size
83g
(2.9 oz)
Amount per Serving
Calories
23
0% of calories from fat
Trans Fat 0g
Sugars g
Vitamin A 13%
•
Vitamin C 5%