Cheddar and Hot Chili Sauce Swirl Bread
Cheddar cheese and hot chili sauce give this bread incredible flavor, just eating the bread itself is delicious enough!
Directions
In a small saucepan over medium-low heat, heat the milk, oil or butter, and sugar stirring occasionally.
When it just becomes lukewarm to touch, about 100 F degrees. Sprinkle the yeast over the milk mixture and let sit for 10 minutes to active.
In a large bowl, stir together the flour and salt.
Pour the milk and yeast mixture into the bowl of flour and mix with a wooden spoon until a soft, ragged mixture is formed.
In a large bowl with an electric dough hook, knead the dough until elastic and smooth, about 5 minutes at low speed.
Take the dough out of the bowl, oil the bowl, then put the dough back into the bowl, turn it once to make sure all sides of the dough are covered by oil.
Cover with a plastic wrap or clean towel, and allow it to rest in a warm area of the house until doubled in size, 1 to 2 hours, depending how warm the place is.
Then transfer the dough to the work surface and, using your hands, gently flatten into a 9-inch-wide and ½-inch thick rectangle.
Spread the hot chili sauce evenly over the dough, leaving a 1-inch border around the outside edges free of hot chili sauce.
Sprinkle the cheese evenly over the sauce, respecting the same border that allows the dough to seal properly in the next step.
Roll the dough up tightly from the short ends to make a 9-inch long log, similar to making a jelly roll.
Press down on the last roll to seal and make a seam.
Lightly coat a 9 by 5-inch loaf pan with cooking spray or brushed with oil.
Place the dough, seam side down, into the pan.
Cover and return to the warm spot until the dough has again doubled in size and is cresting over the top of the pan, about 1 to 2 hours.
Preheat the oven to 400℉ (200℃) F.
Just before baking, make a ¼ inch-deep slit down the center of the loaf using a serrated knife. Put the loaf pan on the center rack of the oven.
Spray the inside walls of the oven and the top of the loaf with a generous misting of water to create steam. Quickly close the oven door and bake for half an hour.
Remove the loaf from the pan and continue baking for another 10 to 15 minutes.
The center of the loaf should register 190°F on a thermometer and the bottom of the loaf should sound hollow when tapped. Allow the bread to cool completely on a wire rack before slicing.
Keep refrigerated in an airtight container for up to 3 days.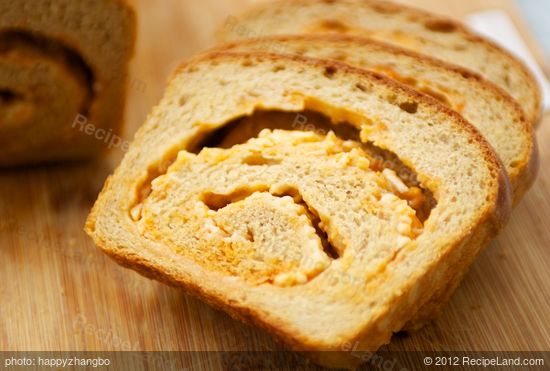 Nutrition Facts
Serving Size
71g
(2.5 oz)
Amount per Serving
Calories
189
27% of calories from fat
Trans Fat 0g
Sugars g
Vitamin A 2%
•
Vitamin C 0%