Chard, Kale and Cheddar Phyllo Pie
It's the season of Swiss chard and kale. We got lots of these fresh leafy greens from our CSA farm, and I was trying to come out an idea to use them up, surfing the internet, found a recipe in New York Times, it's a chard and feta phyllo tart. Definitely got the inspiration, I used both chard and kale, instead of feta, I used cheddar; and I sauteed some fresh mushrooms and added some toasted pine nuts, which worked very well. Also, I used a pie plate instead of a tart pan, and it was a great success, absolutely flavorful and delicious. The phyllo crust came out flaky and crispy. Have definitely become one of my signature recipes :)
Directions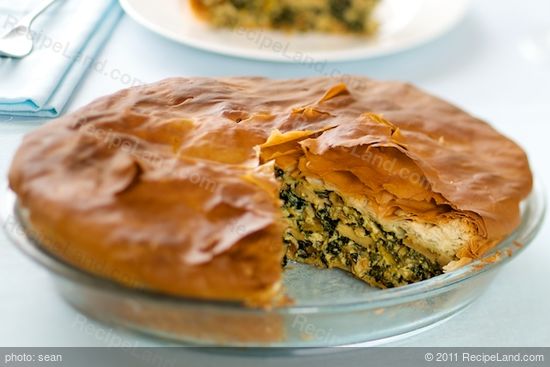 Adjust the oven rack to lower-middle position.
Preheat the oven to 350℉ (180℃).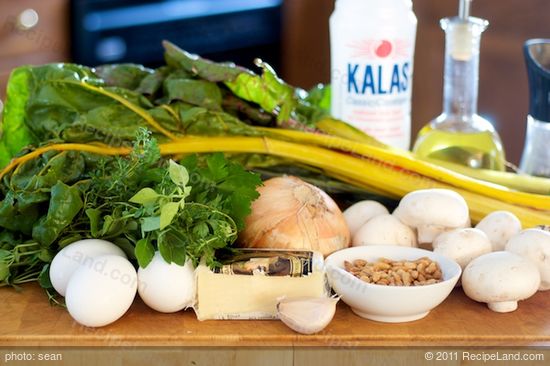 Heat the oil in a large nonstick skillet over medium high heat until hot
Add the garlic and onions, stirring, and cook for about 4 minutes until the onions are soft.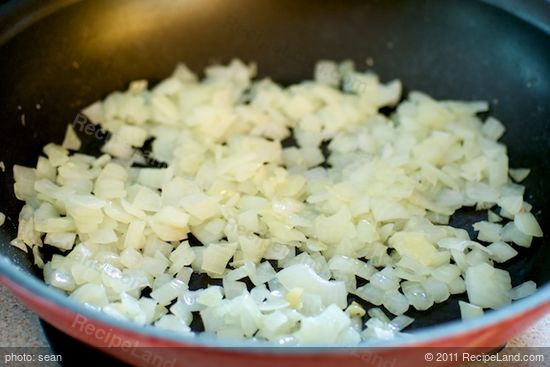 Stir in the mushroom, and cook for 6 to 8 minutes, until the mushrooms start becoming brown, and part of the moisture has been evaporated.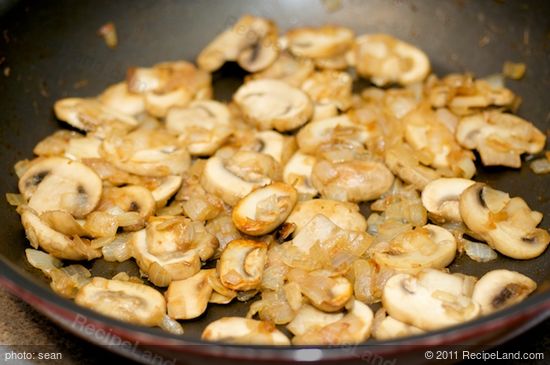 Add the chard leaves, stems and kale leaves, stirring, and cook for about 5 minutes, until all the leaves are wilted and completely cooked through.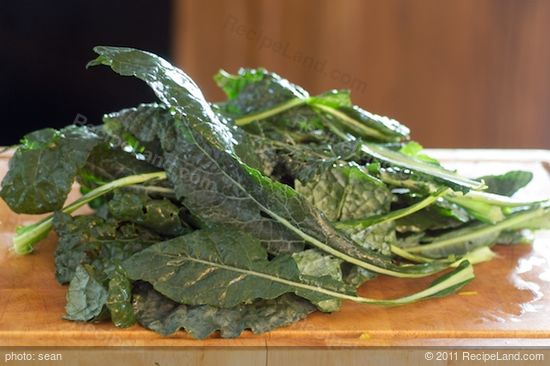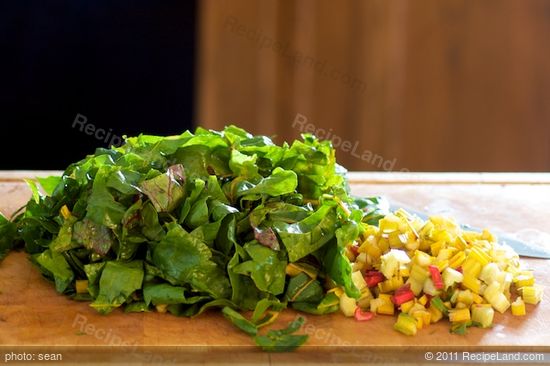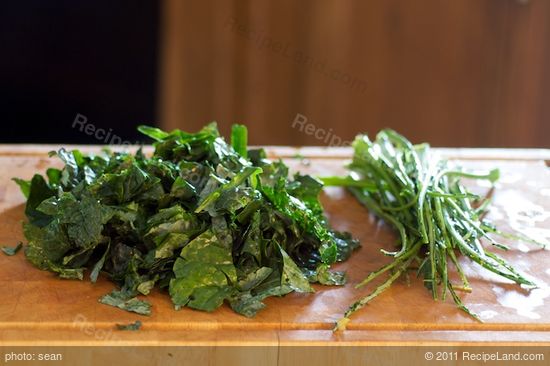 Season with salt and black pepper. Remove from the heat, and transfer the vegetable mixture into a large bowl, add the toasted pine nuts and herbs, and mix until well combined. Set aside.
Meanwhile whisk the eggs and cheddar in another medium bowl until well mixed.
Pour the egg and cheese mixture into the vegetable mixture, and stir until well combined.
Coat a 9-inch pie plate with cooking spray or grease with butter. Lay the first sheet of phyllo pastry over the bottom of pie pan.
Try to let the pastry fill up the whole pan, and will have edges hanging out of the pan. Coat the entire phyllo sheet with cooking spray or brush with melted butter.
Then repeat another 5 sheets of phyllo, spray each sheet.
Don't lay them all at same spot; every time lay the sheet at a different angle, then the overhanging sheets will be more evenly spread, later will make an even crust.
Spoon the filling into the crust and spread it evenly. Fold all the overhanging phyllo sheets in over the filling, and try to arrange them evenly.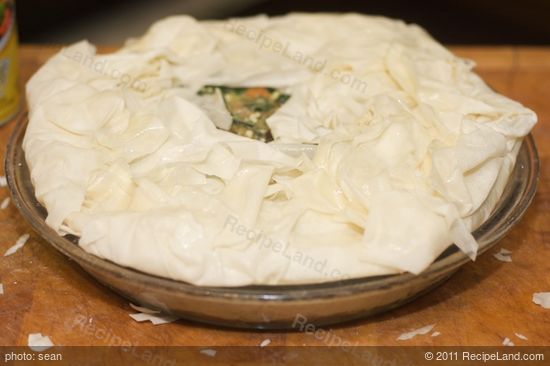 Lay another 4 sheets of phyllo over the filling. Coat each layer with cooking spray or brush with butter.
Stuff the edges into the sides of the pan to form a pie crust looking.
Coat with cooking spray.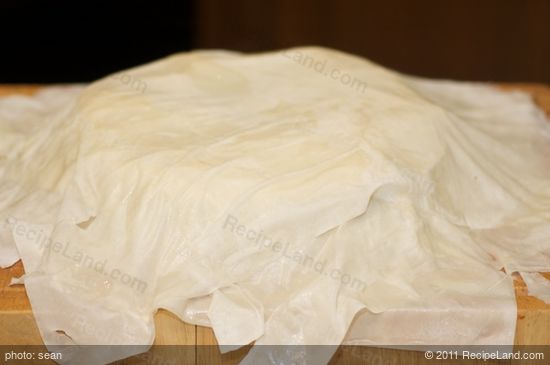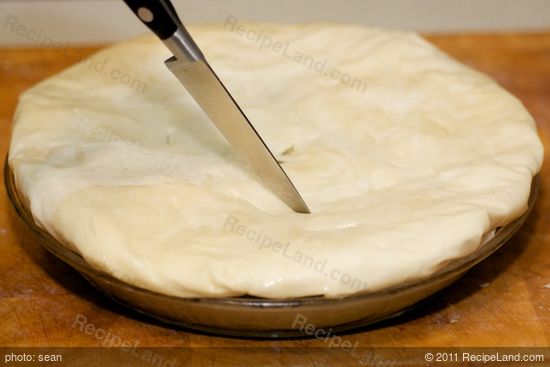 Using a paring knife gives the top several small cuts in order to let the steam come out during the baking.
Bake in the preheated oven for about 35 to 40 minutes, until the top and sides are completely golden and brown.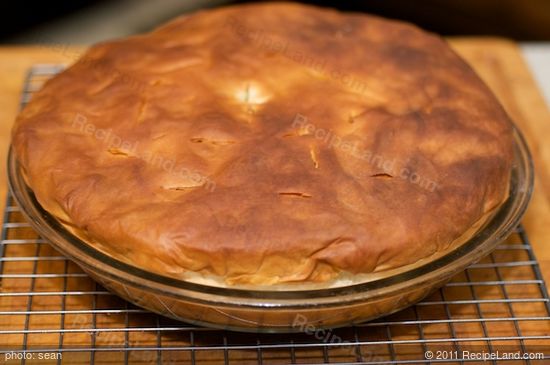 Watch carefully when the baking is close to the end, if the crust is too brown, lower the temperature of the oven for another 25 degrees F.
Cool on a wire rack for at least 20 minutes.
Serve warm or at room temperature.
Nutrition Facts
Serving Size
194g
(6.8 oz)
Amount per Serving
Calories
177
55% of calories from fat
Trans Fat 0g
Sugars g
Vitamin A 251%
•
Vitamin C 148%