Buttermilk Herbed Coleslaw
Directions
In a food processor, thinly slice the cabbage with a 4mm slicing dish or by hand.
Place the cabbage in a large mixing bowl.
If using a food processor, switch to the grating dish and grate the carrot or by hand cut it into very thin strips.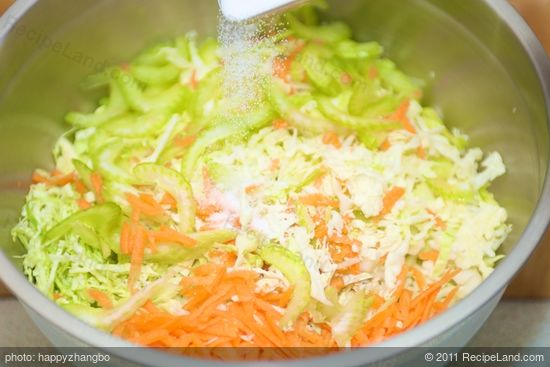 Add the carrot, celery, onion and 1 tablespoon salt to the shredded cabbage and toss until well distributed.
Transfer the slaw into a colander and set over a large bowl or saucepan.
Pack down the slaw and drain for 2 hours.
Meanwhile chop the garlic roughly.
Sprinkle a pinch of salt over and mash it into a paste on a cutting board with the side of a chef's knife.
In a small jar or bowl, add the garlic paste, buttermilk, olive oil, lemon juice, chives, parsley, celery seeds, and freshly ground black pepper to taste, whisk or shake if using jar until well blended. Chill in the frige until ready to use.
Turn the slaw out onto a clean dishtowel or some paper towels and pat it thoroughly dry.
Add the slaw into a large bowl.
Pour in the buttermilk dressing, toss until evenly coated and well mixed.
Season with more salt, black pepper and lemon juice if needed.
---
---