Authentic Jimmy Dean Country Breakfast Casserole with Two Cheeses
Authentic sausage casserole done right. Creamy custard-like interior with crispy edges and two cheeses interwoven. Say no-more. Make-ahead makes it painlessly delish.
Directions
Generously grease a 9 x 13-inch (23 by 32cm) baking dish . Arrange the bread in the baking dish evenly. Sprinkle with two kinds of shredded cheese.

In a bowl, combine the remaining ingredients, mixing well. Pour evenly over the bread, cover and refrigerate overnight.

Bake for 1 hour at 350℉ (180℃) F or until golden brown, bubbly and utterly delicious.
Allow to rest for 5 or 10 minutes before serving.
Country Breakfast Casserole for Two
Use 1/3 pound of breakfast sausage, 4 eggs 1 cup of milk + ¼ cup cream, only 4 slices of bread and 1/3 cup each of the shredded cheeses.
Reduce baking time to 45 minutes. In a smaller casserole dish, you can stack the bread slices two layers high, so we divide the cheeses and sprinkle ½ the cheese and scallions on the first layer of bread slices and then layer with the remaining bread slices sprinkled with the remaining cheese.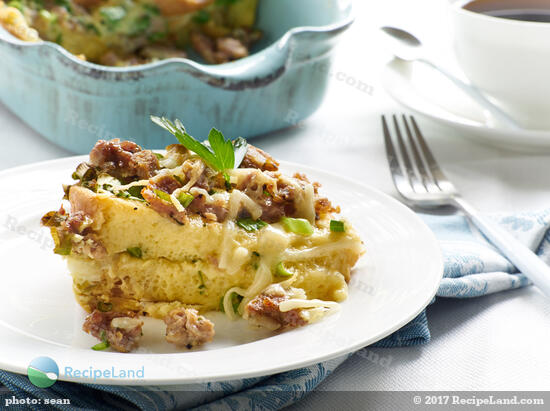 Nutrition Facts
Serving Size
190g
(6.7 oz)
Amount per Serving
Calories
338
68% of calories from fat
Trans Fat 0g
Sugars g
Vitamin A 18%
•
Vitamin C 1%