Veggie Matzo Brie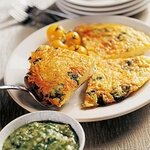 Find more recipes at www.thenibble.com.
Metric
Directions
Break matzo into 2-inch pieces. Place in medium bowl and cover with warm water. Set aside until softened, about 5 minutes.

Drain matzo, squeeze dry and return to bowl. Add eggs, cheese, mustard and salt; whisk to combine.

Preheat broiler. In an 8" nonstick skillet, melt butter over medium heat. Add carrots and broccoli and cook, stirring, until vegetables are crisp-tender, about 5 minutes.

Pour matzo mixture over vegetables in skillet and reduce heat to medium-low. Cook until underside is nicely browned, about 10 minutes (top will not be set).

Place skillet under broiler (cover handle with heavy duty foil if not heat-proof). Cook mixture until top is set and golden, 3 to 4 minutes. Cut into quarters and serve. Top with pesto, if desired.