Sesame Beef Strips
Easy Chinese sesame beef strips and broccoli. With both stir-fry and microwave directions. Colorful with punchy Asian flavor.
Directions
Partially freeze the steak to help achieve thin slices. Slice steak strips, diagonally, across the grain into ¼ inch wide strips.

In a small bowl, combine minced green onions, soy sauce, garlic, sesame seeds, rice wine and sugar.

Add the beef strips to the marinade, mixing to coat the steak strips with the marinade. Close or cover and refrigerate for 30 minutes.
Stove-top
Heat a skillet over medium-high heat with a teaspoon or two of sesame oil. Once shimmering hot, add the drained marinated sesame beef strips.
Stir-fry, until fully cooked. If desired, add the reserved marinade dissolved with ½ teaspoon of cornstarch. Cook, stirring rapidly for about 2 minutes coating the beef strips.
Serve with stir-fried broccoli with steamed rice. Garnish with additional sesame seeds, thinly sliced green onions (scallions) and cilantro or parsley as desired.
Microwave
Thread the beef strips (weaving back and forth) onto bamboo skewers. Arrange the skewers, not touching each other, across a suitable baking dish , suspending the beef strips. Brush with reserved marinade and cover with waxed paper.
Microwave on high for about 4 minutes, turning skewers and rotating the dish midway through cooking. Rearrange the skewers again and microwave for another minute or two or until beef is cooked to your preference. Try not to overcook.
Allow to stand, covered, for about 2 minutes. Serve the skewered beef strips on a bed of rice and cooked broccoli or Asian style vegetables.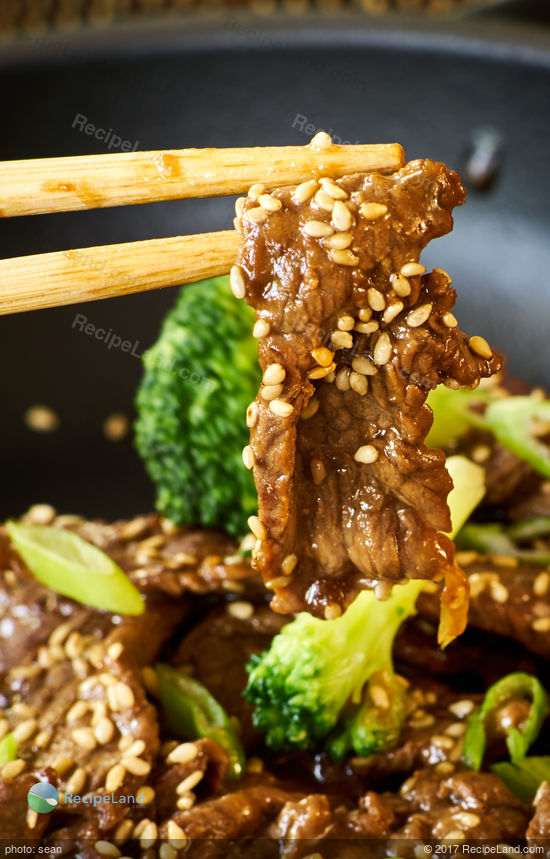 Nutrition Facts
Serving Size
201g
(7.1 oz)
Amount per Serving
Calories
234
33% of calories from fat
Trans Fat 0g
Sugars g
Vitamin A 41%
•
Vitamin C 7%