Chinese Beef Stew
Chunks of beef slowly braised in an authentic Chinese manner. Nearly any tough cut of beef can be made magically tender and flavorful with this technique.
Directions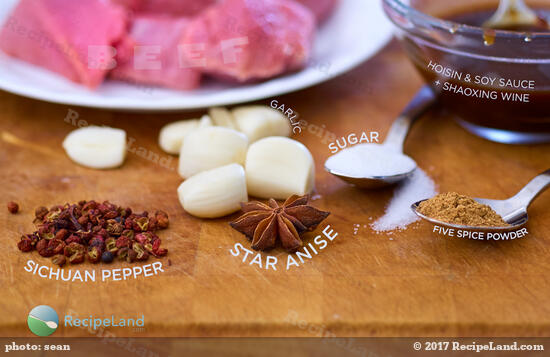 Tough beef is most flavorful, but you must simmer it gently for several hours to soften the sinewy muscle.
Slow braising also encourages an exchange of flavors between the meat and the tangy sauce, enhancing both.
Chinese radish adds just the right bite, much as turnips would in a Western stew.
In effect, this is Chinese beef stew.
Game meats or goat meat may be substituted for the beef for a delicious and unusual variation.
Oxtails can also be braised in this manner or even veal shanks.
Almost any cut of meat or organ that requires extensive cooking does well if braised.
The flavor-packed sauce keeps the meat flavorful throughout.
Turnips or carrots may be substituted for the Chinese radish, and chestnuts have a strong, sweet taste that holds up well to braising.
Make a diagonal slice, roll daikon ¼ turn and slice again.
Continue rolling and cutting until done.
The preferred cut is brisket of beef, a boneless piece of tough meat from the underside of the steer, because of its rich, gelatinous texture when cooked.
It is sold in Chinese meat markets as Chinese stew beef.
Any tough beef cut can be used, such as boneless chuck and bottom round.
Trim away the outer layers of fat.
Cut the meat into 1½ inch strips. Cut the strips into cubes.
Brown the meat on all sides in a wok over a high flame in 3 tablespoons of oil, Set it aside.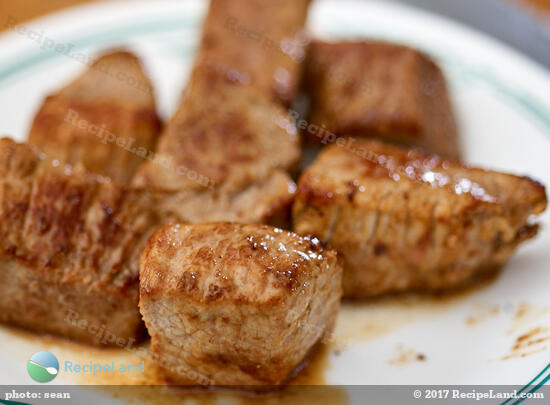 Add the remaining sauce ingredients. Bring them to a boil.
Add the beef to the sauce, reduce the heat to a simmer, cover the wok, and braise the beef for 2 hours. After 1½ hours, add the roll-cut radish.
Cook for 30 minutes more, until both the beef and radish are tender.
Serve the stew immediately.
Nutrition Facts
Serving Size
370g
(13.1 oz)
Amount per Serving
Calories
674
71% of calories from fat
Trans Fat 0g
Sugars g
Vitamin A 0%
•
Vitamin C 1%