Best Grilled Beef Kebabs
Skewered marinated beef kebabs are great for grilling. This recipe features a technique to really maximize the marinade penetration. Add pineapple, peppers and onions for perfect grilled beef kebabs every time.
Ingredients
Marinade:
3
tablespoons

olive oil, extra-virgin




2
large

garlic cloves


or 3 medium, or 4 small ones, minced

*

½
teaspoon

salt


or as needed

¼
teaspoon

black pepper


freshly ground, or as needed

*

1 ½
pounds

beef


top blade steaks or top sirloin steaks, fat trimmed and cut into 1/4-inch cubes

Fruit and vegetables:
2
pounds

pineapple


about 1/2 pineapple, fresh

6
ounces

sweet yellow bell peppers


one pepper, stemmed, seeded, and cut into 1-inch chunks

6
ounces

sweet red bell peppers


one whole pepper, stemmed, seeded and cut into 1-inch chunks

2
tablespoons

olive oil




salt and black pepper


to taste

*

9
ounces

red onion


one medium to large

vegetable oil




*

1

limes


cut into wedges, or lemon

*
Directions
Prepare the marinade:
Mix together the oil, garlic, salt and black pepper in a large bowl. Set aside.
Trim the beef, removing any gristle or fat as desired.
Cut the beef into 1 to 1¼ inch cubes.
Then cut each cube almost but not through the center, leaving about ½ inch. This helps the marinade penetrate inside each cube.
Toss the beef chunks with the marinade until well coated.
Place the beef and marinade into a zipper back and seal. Marinate at least 1½ hours or up to two days.
Preparing the vegetables:
Peel and core the pineapple. Cut into one inch cubes.
Peel and cut the onion into quarters. Using the 3 large outer layers only (reserve the core for another recipe) cut into 1 to 2 inch pieces (3 layers each) suitable for skewering.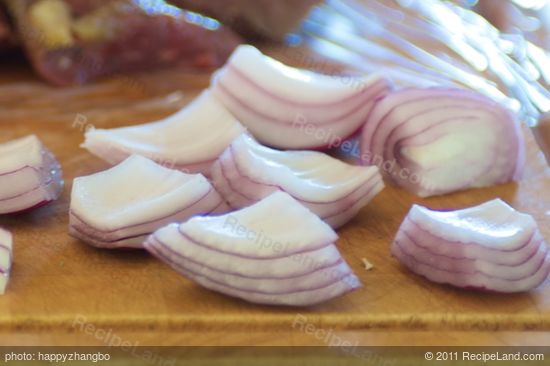 Add the pineapple chunks and bell peppers, 1½ tablespoons of olive oil, salt and black pepper to taste in a medium bowl, toss until well coated.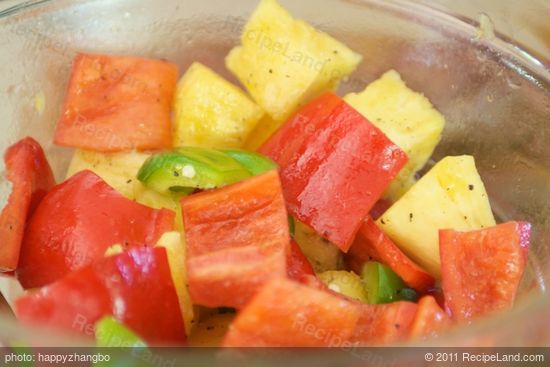 Brush the onion with remaining oil and season with salt and black pepper.
Using metal skewers or soak wood skewers well.
Thread each skewer with a pineapple chunk, three layers of onion (in one stack) and cube of beef. Skewer the beef (that was nearly cut in half earlier) arranging it back into it's original cube, as if it had not been cut.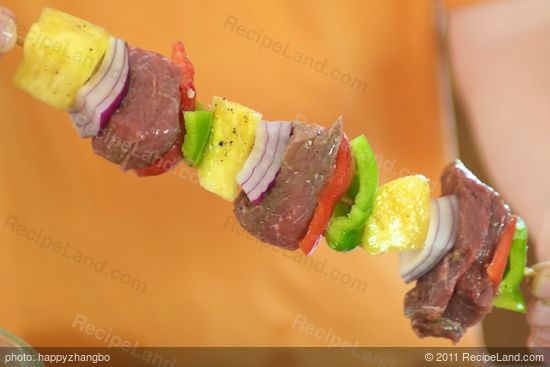 Add one of each color of pepper chunks and repeat until the skewer is nearly full then repeat the process with all the skewers until the ingredients have been used up.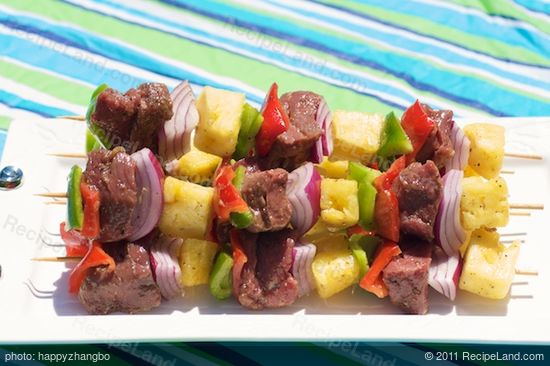 Brush any remaining oil over skewers.
Grill the kebabs over direct heat until the beef is well grill marked, and cooked to medium-rare, 6 to 8 minutes (or 7 to 9 minutes for medium), turning each kebab every 2 or 3 minutes to grill evenly on all sides.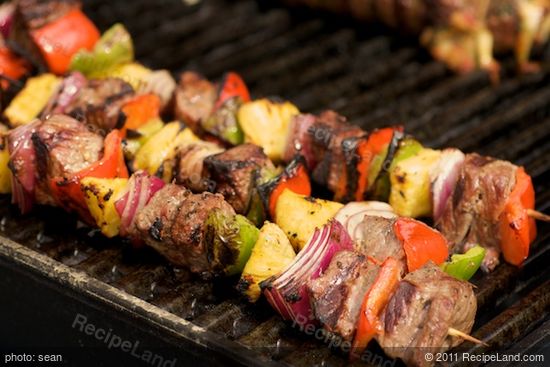 Transfer the kebabs to a serving platter or plate and squeeze lemon or lime wedges over kebabs.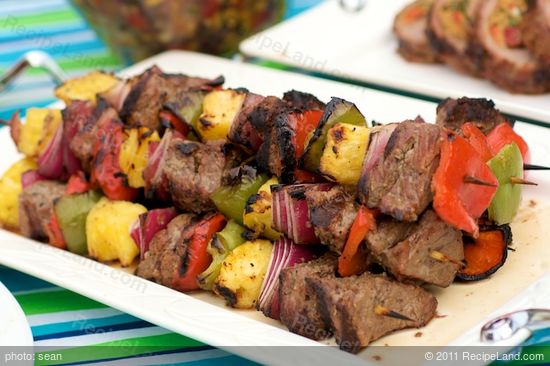 Serve.
Nutrition Facts
Serving Size
812g
(28.6 oz)
Amount per Serving
Calories
656
44% of calories from fat
Trans Fat 0g
Total Carbohydrate
20
g
20%
Sugars g
Vitamin A 10%
•
Vitamin C 246%