Mexican Chocolate Cookies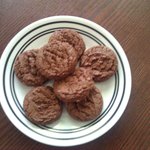 Cayenne and chocolate make a nice combo in this cookie from Paula Tuchscherer-Jones of Milwaukee; they would provide an interesting complement when plated with more traditional cookies.
Metric
Directions
Preheat oven to 350℉ (180℃).
Place chocolate in a small glass bowl; microwave on high (100% power) 1 minute or until almost melted, stirring until smooth. Cool to room temperature. Set aside.
In small bowl, combine flour and seasonings and stir to combine. Set aside.
In large bowl, beat sugar and butter with electric mixer at medium speed until well blended, about 5 minutes.
Add egg and beat well.
Add cooled chocolate and vanilla; beat just until blended.
Add reserved flour mixture; stir until combined.
Drop dough by level teaspoons 2 inches apart on cookie sheets coated with vegetable oil spray.
Bake in preheated oven 6 to 8 minutes or until almost set. Remove from oven.
Cool on pans 2 minutes or until set. Remove from pans; cool completely on a wire rack.