Low Fat Chicken in Phyllo
Juicy chicken breast stuffed with cheese, shallots and cheese. The phyllo really helps hold in the moisture to keep the chicken breast moist. This is a reduced fat version of a popular recipe and it's equally as tasty in my opinion. If you wish to reduce the fat even further omit the cheese altogether.
Directions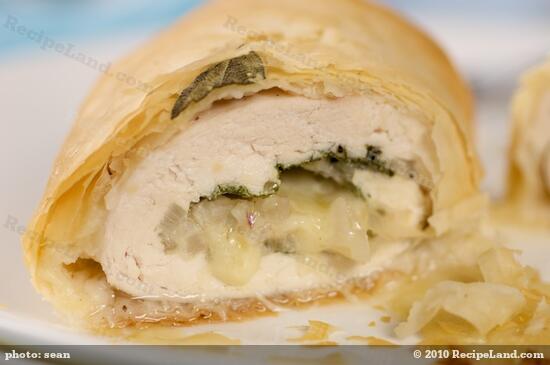 Preheat oven to 400℉ (200℃). Halve chicken breasts & pound flat between cling film.
Using a gentle touch season both sides of each chicken breasts with salt and pepper.
Use 4 sheets of phyllo pastry for each chicken breast.
Lay down a sheet of phyllo. Lightly spray with cooking spray. Place the next sheet on top and lightly spray. Repeat for the remaining sheets.
On each chicken breast lay down one of the sage leaves (or sprinkle ¼ teaspoon of dried sage).
Then sprinkle 1 tablespoon shallots.
Lay ½ ounce of cheese on each breast & roll up.
Place breast in the middle of the phyllo, at one end; roll once, fold in sides and continue rolling.
If desired, place a sage leaf under the outside layer of phyllo pastry positioning it so that once rolled the sage leaf will be visible on the top of the rolled up chicken breast.
Light spray the outside of the bundle with cooking spray.
Arrange the bundles evenly spaced out on a baking sheet and bake for 30 to 40 minutes until browned and the breasts have been cooked through.
If you have a thermometer the breasts should reach an internal temperature of 165 degrees F.
Nutrition Facts
Serving Size
85g
(3.0 oz)
Amount per Serving
Calories
243
58% of calories from fat
Trans Fat 0g
Sugars g
Vitamin A 11%
•
Vitamin C 1%