Double Orange Muffins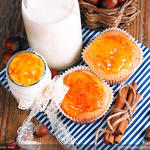 Double Orange Muffins recipe
Metric
Directions
Preheat oven to 400℉ (200℃).
Grease 12 muffin cups or line with paper liners; set aside.
Combine dry ingredients (including orange peel) in medium bowl.
Combine and add egg, orange juice, melted butter, milk, and vanilla; mix just until dry ingredients are moistened.
Spoon batter into prepared cups, filling each cup ½ full.
Bake 18 to 20 minutes, until golden brown.
Let cool in pan on wire rack 5 minutes.
Remove from pan.
Serve warm or at room temperature.