Coq Au Vin à la Slow Cooker
Directions
Coq au vin translation: "Chicken with wine."
These directions draw upon French techniques I've seen while seeing Coq au Vin prepared by Julia Child, Jacques Pepin, Alton Brown, Jamie Oliver, the Barefoot Contessa and others.
Easy crock pot coq au vin does take a diminutive bit of effort up-front if you want to develop serious flavor. If you just dump the ingredients into your slow cooker and expect wonderous results, it will still be good.
However, with just a tiny bit of prep and using one standard skillet or good sized high-side saucepan you can achieve magical layers of flavor!
Don't bother using a non-stick skillet. Use a stainless steel pot or even a Dutch oven if you don't have a saucepan.
Let's get started.
Chop white part of green onion only. Save the green parts for garnish. Or just dice up a cooking onion.
Cut the bacon into lardons and sauté the chopped onion in large fry pan or pot (do not use a non-stick pan) until the bacon is crisp. If using yellow onion, cook the onions along with the bacon.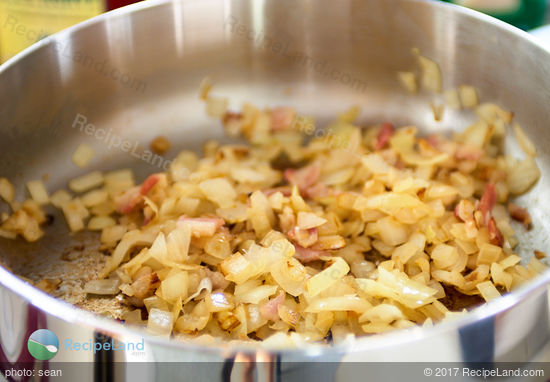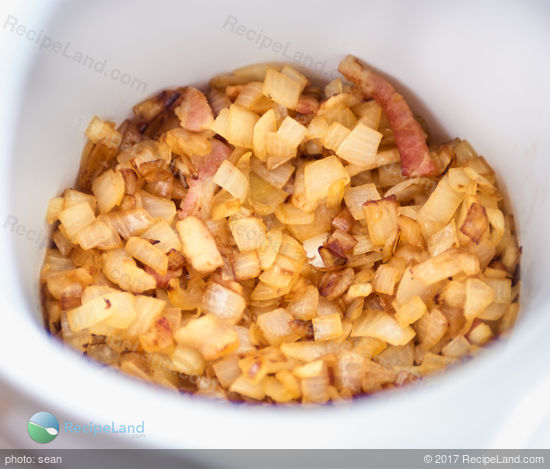 The strategy here is to develop fond. Fond = flavor. It's ok for bits of bacon to stick and stay on the bottom of the pan.
Onwards to magical layers of flavor.
Transfer the crispy bacon to your slow cooker.
Wash chicken. Pat dry. Add to pan.
I watched Julia Child and Jacque Pepin live, arguing about washing chicken when making coq au vin. Pepin insisted that there was no need. The heat will kill whatever's on the skin. Julia, unphased, just looked at the crowd and stated: "Well, I'm going to wash the chicken and thoroughly dry it." (eyeroll towards Pepin)
Make sure you dry the chicken. It needs to be dry to properly brown, creating that marvelous fond.
Season with salt and thyme.
Brown the chicken on all sides.
If you don't have a whole chicken all the better; more inexpensive chicken pieces likes thighs and legs work even better.
Once the chicken is browned; transfer to your slow cooker with the bacon.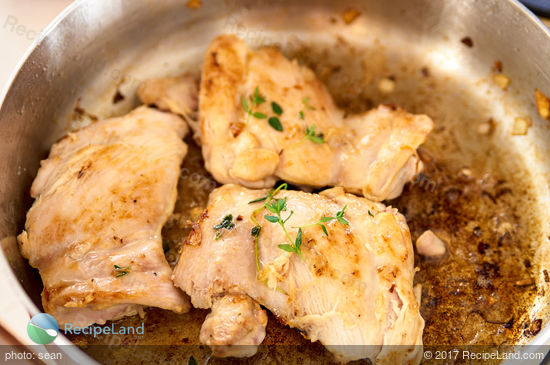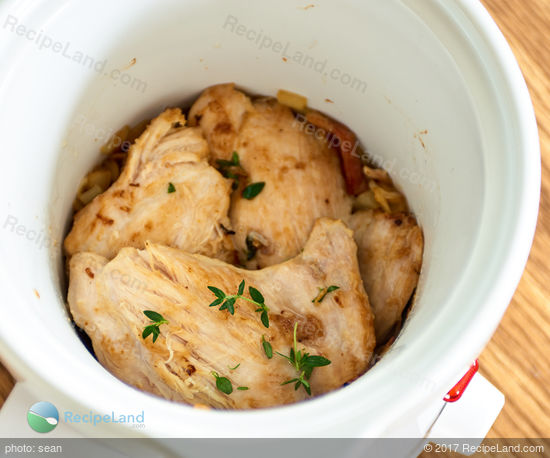 Peel the whole onions. Cut a small cross in the root end of each. Credit for this goes to Julia Child. However, credit is due to this French technique.
Brown the whole onions in remaining drippings, rolling about to evenly brown and coat as best you can. Add to crock pot/slow cooker. Keep things moving!
The pot should be accumulating a beautiful, very brown fond on the bottom (see photo). It's time to deglaze and capture that magic.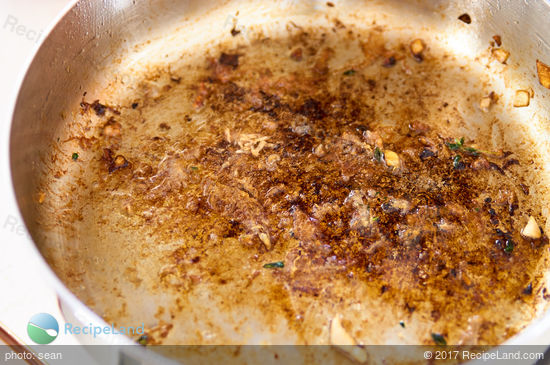 Pour the red wine into the pan, stirring and scraping if needed to loosen brown bits.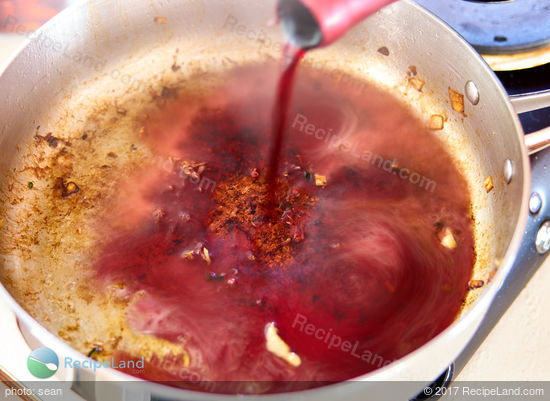 You'll notice in the photos above how the sauce deepens into a rich, dark, flavor-packed juice.
Add the chicken bouillon powder or stock cube. Stir until dissolved.
Pour over chicken. Add garlic whole. A bouquet garni (sprigs of thyme, parsley, etc.)
Slice mushrooms. Sauté in butter. Add to chicken.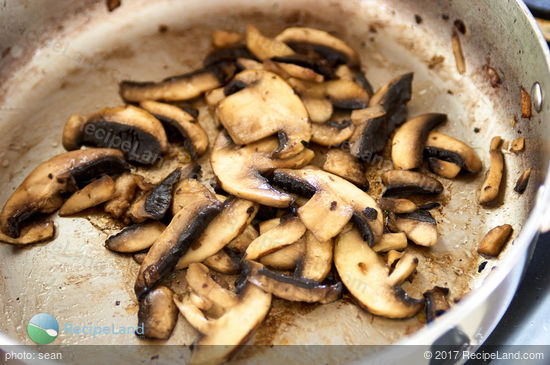 Cover and cook on low setting for 4 to 6 hours.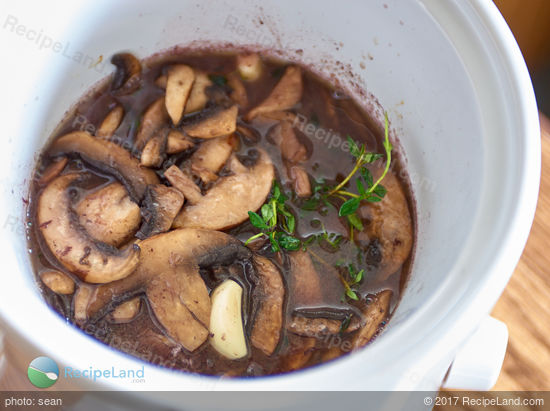 Turn heat on HIGH, when juices bubble, stir in cornstarch mixed with a bit of water that will help thicken the juices into the magic sauce.
Cook until thickened, at least 2 or 3 minutes.
Sprinkle with parsley and reserved green parts of scallions, thinly sliced on the diagonal, as garnish if desired.
Serve coq au vin with crusty white French bread or accompaniments as desired.
---
---