Chocolate White Treasure Brownies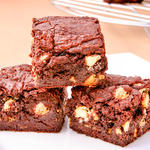 Chocolate White Treasure Brownies recipe
Metric
Directions
Bring sugar, butter and water to a boil and remove from heat.
Add semi-sweet chocolate and vanilla.
Stir until chocolate melts and mixture is smooth.
Add eggs one at a time and beat well after each.
Blend in dry ingredients.
Stir in white chocolate.
Spread into greased 9 inch pan.
Bake at 325℉ (160℃) for 30 to 35 minutes.
Cool and cut.