Buttery Buttermilk Biscuits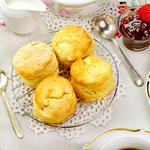 Buttermilk Biscuits recipe
Metric
Directions
Sift flour with baking powder, soda, salt, and sugar.
Cut in ⅔ cup butter until mixture resembles coarse meal.
Add buttermilk, stirring until dry ingredients are moistened.
Turn dough out onto a lightly floured surface; knead lightly 4 or 5 times.
Roll dough to ½ inch thickness; cut with a 2½ inch biscuit cutter.
Place biscuits on a lightly greased baking sheet.
Brush tops with ¼ inch melted butter.
Bake at 450 F for 8 minutes or until golden brown.
Note: When cutting biscuits, never twist the cutter; that will seal the edges and prevent proper rising.
If the cutter is not cutting all the way, consider a new cutter.
Serve with jam or butter if desired.