Baked Brussels Sprouts Au Gratin #2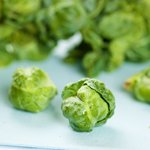 Metric
Directions
Preheat oven 325℉ (160℃). Wash and "x" bottom of brussels sprouts. Place in boiling water, enough to cover. Boil and simmer 10 minutes or until tender. Drain and reserve 1 cup hot liquid.
Melt butter in sm skillet. Add green onions and sauté 3 minutes. Stir in flour and cook until flour is dissolved, 3 minutes. Add bacon, garlic and parsley. Cook 3 minutes more. Pour in reserved water. Add salt and pepper. Bring to a boil, stirring constantly until thickened to consistency of heavy cream.
Remove bacon from sauce. Place sprouts base down in a buttered casserole. Pour sauce over. Top wih grated cheese then breadcrumbs.
Bake 30 minutes or until top is browned.