Applesauce Cinnamon Waffles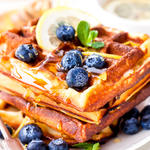 Applesauce Cinnamon Waffles recipe
Metric
Directions
Prepare waffle iron with cooking spray and heat up.
In a small bowl, combine the 3 tablespoons sugar and ½ teaspoon cinnamon; set aside.
In a mixing bowl, combine flour, baking powder, baking soda, remaining sugar and cinnamon.
In another mixing bowl, combine egg whites, buttermilk, applesauce, maple syrup, vanilla, orange extract, and raisins if desired.
Mix dry ingredients with wet ingredients just until moistened.
Pour enough batter to fill two-thirds of the waffle iron.
Cook until crisp and golden brown.
Set aside.
Repeat with remaining batter.
Sprinkle sugar and cinnamon mixture over waffles.