Whole Wheat Mayo Banana Muffins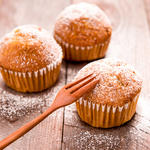 Quick, easy and good banana muffins!
Metric
Directions
Preheat oven to 400℉ (200℃).
Mix all together, put in a 12-cup well-greased muffin pan.
Bake for 55 to 60 minutes, or until wooden skewer inserted center comes out clean.
Cool in pan on wire rack for about 20 to 25 minutes.
Remove from pan, serve warm and let cool completely.
Dust with powdered sugar if desired.