Touchdown Italian Chili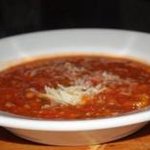 This Italian version of the Mexican favorite was given to me by a friend and former Principal in our district, Ginny Trapani. Buon Gusto!!
Metric
Ingredients
Touchdown Italian Chili
1 pkg Italian sausage, 2 lbs. (I use the hot kind)
2 cups chopped sweet yellow onion
3-4 celery ribs, chopped
1 each, red, yellow, and green peppers, chopped
1 lb. sliced mushrooms
3 -4 chopped garlic
4 cans (13.5 oz) Italian stewed tomatoes
2 cans light red kidney beans, rinsed and drained
1 cans (8 oz) tomatoes paste
1 can sliced black olives
1 cup cream sherry
1 pkg fresh basil
2 tsp baking cocoa
Pepper to taste
Directions
Grill sausage, let sit to absorb juices, then cut into desired pieces. Set aside. In soup pan, sauté all the fresh vegetables in olive oil until tender. Add all remaining ingredients and simmer for one hour. It is best if made a day ahead and then reheated.
Serve with Asiago or Romano cheese.