Quick and Easy Apple Pancakes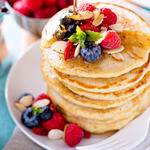 Forget about those store-bought pancake mix, use this simple recipe to make delicious and warm apple pancakes for breakfast.
Metric
Directions
Beat eggs, sugar and water.
Peel and dice apples.
Add to mixture with cake meal and salt; mix well.
Heat small amount of oil in pan.
Drop mixture into frying pan by tablespoonfuls.
Fry til browned on both sides.