Nutty Cocoa Brownies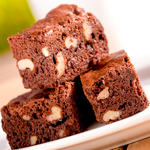 Cocoa Brownies recipe
Metric
Directions
Sift together flour, cocoa, baking powder, and salt; set aside.
In mixing bowl slightly beat the eggs.
Gradually stir in sugar.
Add vanilla and oil and mix well.
Stir in flour-cocoa mixture, then nuts. Spread in greased shallow 11x7 or 9-inch square pan.
Bake at 350℉ (180℃) for 22 to 25 minutes.
Cool in pan, then cut in bars, squares, or diamonds.