My Favorite Christmas Cookies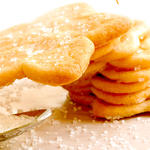 My Favorite Christmas Cookies recipe
Metric
Directions
Cream butter and sugar in mixer bowl until light.
Add eggs, milk, and vanilla and blend well.
Stir together flour, baking powder, and salt.
Add to creamed mixture and blend well.
Divide dough into 3 parts; wrap each snugly in plastic wrap and refrigerate 2 hours or until firm enough to roll out.
Dust work surface and rolling pin with flour.
Roll out 1 piece of dough at a time to ⅛ inch thickness.
Cut with cookie cutters (press cutters into flour before using on dough).
Chill dough if necessary.
Place cookies on greased baking sheet.
Sprinkle with sugar sprinkles. Bake at 350℉ (180℃) F for 13 minutes, or until golden.
Cool on wire racks.