Mini Pancakes with Berry Sauce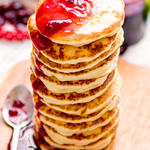 Mini Pancakes with Berry Sauce recipe
Metric
Directions
Spread strawberries over bottom of greased 8 or 9 inch square baking pan.
Stir together flour, baking powder, and sugar in a bowl.
Add egg, mix with fork until crumbly.
Spread over berries.
Dot with small pieces of butter or margarine.
Bake at 375℉ (190℃) F for 45 to 50 minutes.
Serve warm with whipped cream, topping, or ice cream.
NOTE: 4 cups frozen unsweetened berries may be used instead of fresh.
Mix together oatmeal, flour and brown sugar.
Add nuts.
Cut in butter or margarine until crumbly.
In another bowl, mix strawberries and white sugar together.
Grease an 8 inch square pan.
Spread half the crumb mixture on bottom.
Cover with strawberries.
Spread remaining crumb mixture over top.