Jumbo Blueberry Muffins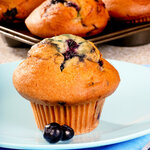 These muffins are lightly spiced with cinnamon to bring out a delicate blueberry flavor!
Metric
Directions
Preheat oven to 400℉ (200℃).
Grease and flour a jumbo muffin pan.
Sift dry ingredients into bowl, including cinnamon.
Make a well in the center.
Combine egg, milk, and oil.
Add all at once to dry ingredients.
Stir quickly just until dry ingredients are moistened.
In a separate bowl, mix topping ingredients if desired, except for butter.
Cut in butter until it resembles coarse crumbs.
Fill prepared muffin tin ⅔ full. Sprinkle on topping if using topping.
Bake 25 minutes.