Honey Garlic Glazed Meatballs
A classic party pleaser that is fairly easy to make. Meatballs glazed in tasty goodness. Always a hit at a potluck.
Directions
Mix together the milk and eggs in a large bowl.
Add the onion, salt, bread crumbs, ground beef and ground pork. Mix well.
Shape into one inch balls and set aside on waxed paper.
You can oven bake or brown in a skillet.
To oven bake, preheat the oven to 400℉ (200℃).
Place the meatballs in a large baking dish and bake for 13 to 15 minutes until cooked through. Drain any accumulated fat.
To brown in a skillet, heat a large skillet with a small amount of vegetable oil. Coat the meatballs with a dusting of flour and brown in batches. Remove to paper towels to drain.
To make the sauce: heat the butter in a large saucepan and sauté the garlic for 30 seconds.
Add the honey, ketchup and soy sauce and bring to the boil.
Reduce heat and simmer for 3 to 5 minutes. Add the meatballs.
Gently stir to coat and cook for 5 to 10 minutes until glazed. Make sure to stir gently to prevent breaking up the meatballs.
Remove to a serving platter and serve. Stick a toothpick in each meatball if they are for a party.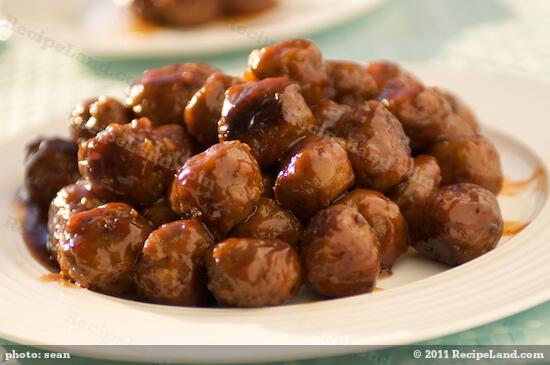 Makes around 72 to 80 meatballs. 3 to 5 per appetizer sized serving.
Nutrition Facts
Serving Size
117g
(4.1 oz)
Amount per Serving
Calories
236
38% of calories from fat
Trans Fat 0g
Sugars g
Vitamin A 4%
•
Vitamin C 5%