Ensenada Chili Pot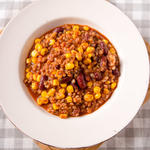 Ensenada Chili Pot recipe
Metric
Directions
Trim excess fat from beef; shake beef cubes with flour and chili peppers.
Brown, a few at at time, remove and reserve. Stir in onion, sauté 5 minutes; or until onion is soft.
Spoon off any excess drippings; stir any remaining flour seasoning mixture into pan.
Drain liquid from kidney beans and add to pan; stir in tomatoes; bring to boiling point.
Place beef in slow cooker with tomato mixture; stir in kidney beans and corn; cover cooker.
Cook on low for 8 hours or on high for 4 hours; stir in pimiento and green chili peppers.
Spoon chili over rice in soup bowls.
Top with shredded cheddar cheese.