Coffee Cream Cake with Coffee Meringue Filling
Use meringue filling to make this rich coffee cream cake a bit lighter but still taste decadent.
Directions
To make the cake:
Preheat oven to 350℉ (180℃). Separate the eggs.
Combine egg yolks and 1 cup sugar in large bowl and beat until thick and lemon colored, about 5 minutes.
Dissolve the coffee powder in the boiling water. Blend in the vanilla and dissolved coffee powder.
Combine the flour and the baking powder and blend into the batter. Beat the egg whites until stiff. Fold into the batter. Turn into an ungreased 10-inch tube pan. Bake 30 minutes.
Invert the cake onto a wire rack and let stand in the pan until completely cool. Remove the cake from the pan and slice the cake crosswise into thirds.
To make the coffee-meringue filling:
Combine the sugar and brown sugar in a saucepan. Add the hot water and cream of tartar and stir to blend. Cover the pan and slowly bring to a simmer.
Uncover the pan and cook until the syrup spins long thin thread, about 15 minutes or longer. Remove from the heat.
Beat 3 egg whites until stiff. When the syrup stops bubbling, pour over the beaten whites in thin stream, add the coffee powder, beating constantly until fluffy.
Frost the cooled layers with the meringue coffee filling.
To make the frosting:
Whip the cream with 2 tablespoons sugar until soft peaks form. Add the coffee powder and beat until stiff.
To assemble the cake:
Use coffee-meringue filling to fill layers and whipped coffee-cream to frost outside of the entire cake. Chill the cake for a couple of hours.
Press the toasted walnuts onto the sides of cake and place the chocolate curls on top. Chill at least 4 hours before serving. Cut into slices and serve.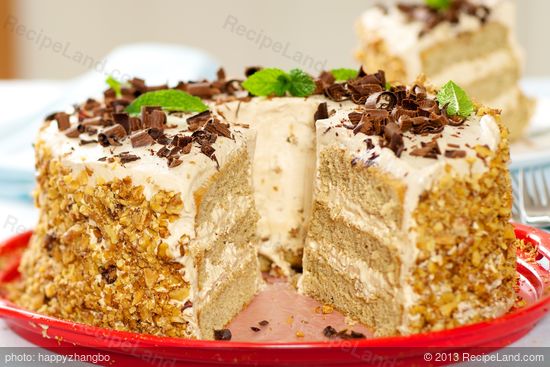 Nutrition Facts
Serving Size
72g
(2.5 oz)
Amount per Serving
Calories
185
35% of calories from fat
Trans Fat 0g
Sugars g
Vitamin A 6%
•
Vitamin C 0%