Asparagus Crepes with Mushroom Dill-Sauce
Directions
CREPES:
Combine flour and salt in mixing bowl.
Make a well in the centre and pour in the soymilk & oil.
Beat until smooth. Heat a 6 or 7-inch skillet.
when hot, pour in ¼ cup of batter and tilt skillet until it's evenly coated.
Cook over moderate heat until lightly browned on the bottom.
Flip and brown the other side.
Remove and set on a plate.
Repeat with the rest of the batter, you should have 6 crepes.
SAUCE:
Heat oil in a small pot.
Add onion and garlic and sauté over moderate heat until onion is golden.
Add mushrooms and cover.
Cook until the mushrooms are limp and juicy.
Sprinkle in the flour and stir until it disappears.
Slowly pour in the soymilk, stirring. Bring to a simmer, then stir in the dill and tarragon.
Cook at a simmer until the sauce thickens.
Stir in the lemon juice and season to taste. Remove from heat and cover.
FILLING:
Trim about ½-inch of the asparagus stalks and scrape off any tough looking skin.
Cut stalks in half & steam until tender crisp.
ASSEMBLE:
Place 6 asparagus stalks in the centre of each crepe, letting the tips protrude from the top and overlapping the halved stalks in the centre if necessary.
Spoon a very small amount of sauce over the asparagus.
Fold one end of the crepe in towards the centre and overlap the other end over it.
Arrange the crepes, folded side down, in an oiled, shallow baking dish . Spoon remaining sauce evenly over the crepes.
Bake in a preheated 350℉ (180℃) oven until just heated through.
Serve at once.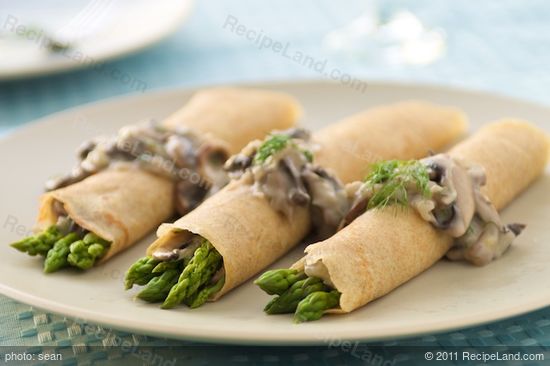 ---
---